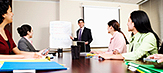 We understand that most clients have heard the same song and dance many times from many sources. We are committed to proving ourselves to each and every client. No potential client should have to take the word of someone else. Therefore, we pledge; OraSolve consulting will treat each and every client as if they are the most important thing in our universe. Because they are the most important thing in our universe.
OraSolve Consulting has a wide breadth of expertise. Our experience and core competencies span multiple disciplines. We offer expertise on a range of Oracle products and Technologies; with a particular focus on the Oracle Database and associated Oracle E-Business Suite technologies. From Staff Augmentation to complete IT project staffing, we offer competative, competent, and cohesive resources for your IT infrastructure. We believe in servicing the client in a manner that other consulting companies only talk about. Our resources are true experts in their field. Our pledge to our clients is : We will not supply junior resources at senior resource rates. Our senior consultants are just that; Senior Consultants.


Collaborative Consulting Means Results
We at OraSolve Consulting believe the client is best source of knowledge about their business. We are the knowledge source for the technology. This combination, when utilized correctly, allows for the the most efficient use of the clients technology budget. This allows us to help the client utilized their resources in a manner that is most efficient for the clients needs. OraSolve Consulting believes there is no one size fits all solution for the company looking for IT assistence. However, we do have the hands on experience to help our clients make the right decision for themselves.